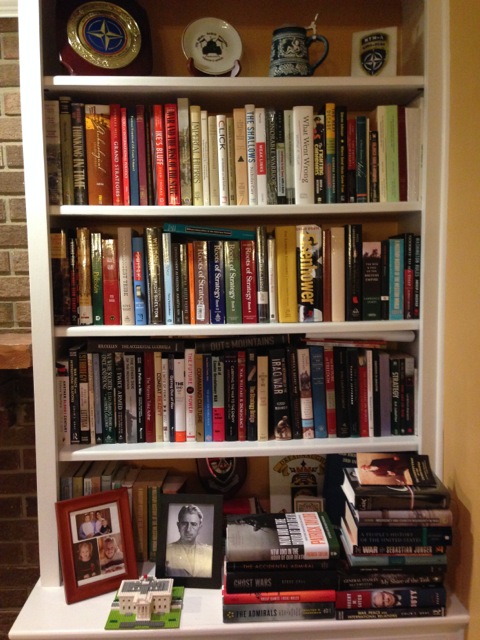 Top Five Books
Carl von Clausewitz (trans. Michael Eliot Howard, Peter Paret), On War:  This should be the seminal work for any officer wishing to understand the interplay of politics, war.  However, before diving right into the dense prose of Uncle Carl, there are numerous books that should be digested to better understand the context and concepts that Clausewitz's magnum opus contain between the lines, most especially Paret's Clausewitz and the State, Smith's On Clausewitz, Echevarria's Clausewitz & Contemporary War, and Sumida's Decoding Clausewitz.
Colin S. Gray, The Strategy Bridge:  Where Clausewitz discusses a general theory of war, this work is essential in understanding the general theory of strategy.  Almost as dense as On War, the time and effort employed to study The Strategy Bridge are well worth the time of any aspiring strategic thinker.  For a quicker read and one of the most impressively concise works on strategic history, read Gray'sWar, Peace, and International Relations.
George Orwell, Burmese Days:  A classic piece of literature describing the eroding of empire – and the dangers of the use of oppressive power and racial bigotry – it holds many truths for contemporary soldiers and diplomats.
Carlo D'Este, Eisenhower:  This biography of one of the most beloved military and political leaders is a must for all soldiers.  Lessons in command, leadership, mentorship, and strategy development can be found throughout its pages.
Jonathan Steinberg, Bismarck: A Life:  This well-research and contemporary biography of one of the world's most influential statesmen provides interesting insights on the management of history, as well as the pitfalls of leadership through personality…and the attendant failure to build the institutional mechanisms required to continue national programs and manage international alliances.
The One That Shaped Me The Most
I'm going to cheat a little on this one and pick two articles instead of one book.  Since professionally and intellectually moving into the realm of strategy a few years ago, Churchill's "Painting as a Pastime" and C.S. Lewis' lecture, "The Inner Ring" have influenced me profoundly.  The former is an endlessly useful description of strategy (and statecraft) as an art that takes practice, patience, and even inherent talent.  Not all those wanting to influence or make strategy have what it takes.  The latter article is a caution, particularly to those desirous of influencing the shape and form of American strategy, to ensure their passion, drive, and morals are in the right place – ambition and selfishness is the antithesis to strategy and good governance:
"But the desire which draws us into Inner Rings is another matter. A thing may be morally neutral and yet the desire for that thing may be dangerous… Of all the passions, the passion for the Inner Ring is most skillful in making a man who is not yet a very bad man do very bad things." – C.S. Lewis