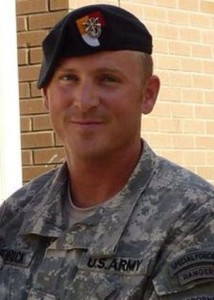 SFC William Paul (Willy P) Rothrock is a Special Forces Engineer Sergeant (18C) assigned to the United States Military Academy (USMA) Department of Military Instruction (DMI).
SFC Rothrock is a native of Arlington, TX.  He attended basic training and advanced individual training (AIT) at Ft. Benning GA, graduating as an Infantryman (11B) in 1995.  He served as a Rifleman with the 5th BN 87th INF LT at Ft. Davis, Panama; Assistant Team Leader with the Scout Platoon 1st BN 187th INF 101st ABN DIV at Ft. Campbell, KY; Squad Leader 1st BN 508th INF 173rd ABN BD at Camp Ederle in Vicenza, Italy; and as a Squad Leader with 2nd BN 22nd INF 10th MTN DIV at Ft. Drum, NY.  SFC Rothrock then served as a Ranger Instructor at 4th RTB in Ft. Benning GA and a Combat Dive Instructor with the Special Forces Underwater Operations School in Key West FL.  SFC Rothrock graduated from the Special Forces Qualification Course in 2008 and served as the Senior Engineer on Special Forces Combat Dive Team Operational Detachment Alpha (ODA) 3135, C Co. 1st BN 3rd SFG ABN and as the Company Senior Engineer on Operational Detachment Bravo (ODB) 3130, C Co. 1st BN 3rd SFG ABN.  SFC Rothrock has deployed in support of Operation Joint Guardian in Kosovo and has four tours in support of Operation Enduring Freedom in Afghanistan.
SFC Rothrock's military education includes the Warrior Leaders Course, Advanced Leaders Course, Senior Leaders Course, Airborne School, Jump Master, Ranger School, Special Forces Qualification Course, Survival, Evasion, Resistance and Escape Course, Special Forces Target Interdiction Course, Sniper Employment Course, Combat Diver Qualification Course, Combat Dive Supervisor Course, Fast Rope Master, Air Assault School, Hazardous Material Handlers Course, Air Force Air Load Planner, Marine Corps Combat Rubber Reconnaissance Craft Course, Special Operations HME and CIED defeat Course and the Raven UAV Operators Course.
He currently holds an AS in General Studies from Fayetteville Technical Community College and graduated Summa Cum Laude from Norwich University with a BS in Strategic Studies and Defense Analysis.
SFC Rothrock's awards and decorations include the Ranger Tab, Special Forces Tab, Expert Infantryman's Badge, Combat Infantryman's Badge, Master Rated Jumpmaster Badge, Combat Dive Supervisor Badge and Air Assault Wings.  He has been awarded 2x Bronze Star, MSM, 6x ARCOM, 5x AAM, 6x GCM, NATO Medal (Kosovo), GWOT Expeditionary Medal, GWOT Service, Kosovo Campaign Medal, Afghanistan Campaign Medal w/1 star,  National Defense Service Medal w/ 2 stars, NCO Development Ribbon numeral 3, the Army Overseas Ribbon numeral 2 and the ISAF medal.
SFC Rothrock is married to Cinzia Rothrock, a native of Podova Italy.  They have one daughter, Emma Rothrock.  His parents are Robert Anderson Rothrock and Amanda Beth Young, both residing in the Dallas/ Fort Worth area of Texas.