On November 18, 2015, Defense Secretary spoke at George Washington University and laid out a series of initiatives focused on talent management within the services. Talent management has developed into a major concern of the Army as junior officers are leaving the Army at an alarming rate. A 2012 Rand study found that only 44% of West Point commissioned officers and 51% of Reserve Officer Training Corps (ROTC) commissioned officers stay past their required eight years of service. Historically, junior officer retention has never been high, but the numbers from the Rand study show retention has reached all-time lows.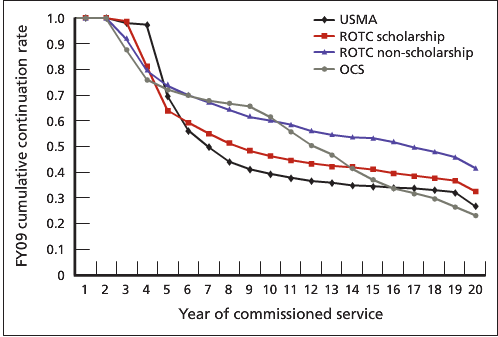 (http://www.rand.org/content/dam/rand/pubs/research_briefs/2012/RAND_RB9653.pdf)
Defense Secretary Ashton Carter understands that this is not a problem that the Pentagon can solve on its own; they need to open a dialogue with junior officers. Private organizations enjoy the luxury of being able to hire leadership from outside of their organization at the executive level. The Army is unable to do that because the military does not allow lateral transitions from private sectors into armed service and therefore is forced to develop all of its own leadership. The Army excels at leadership development; West Point and ROTC graduates are well prepared to meet the expectations set for them by the Army. Because the Army does such a great job in developing leaders, I believe  the Army has become reliant on this strength to overcome the deficit created in the uptick of junior officers leaving the service. This reliance stems from the Army proving that it has been able to continually replenish its officer corps with great officers for the last 200 years. However, the last decade plus of war proved how invaluable junior officers are and the rate at which they are leaving the service is concerning to say the least. I think the Army needs to start asking itself hard questions to figure out how to prevent the officer corps from bleeding itself out. What is driving our junior officers away? Is there actually a brain drain? Are we losing our best junior officers due to a solvable problem?
How do we start to solve this complex problem? In my opinion, Defense Secretary Carter's initiative of implementing exit interviews for service members leaving the military is the best place to start. He understands that this is not a problem that the Pentagon can solve on its own; they need to open a dialogue with junior officers. The Army has been doing research on junior officer retention for years, but is anyone asking these officers why they are leaving? The answer is no, we are not conducting exit interviews for officers leaving service. When Harvard surveyed nearly 250 former junior military officers who had left the armed forces from 2001-2010, 75% of them said the survey was their first opportunity to provide feedback since leaving the service. In order to get a more complete picture and to gain a better understanding, the root of the problem needs to be identified. If the Army is concerned about retaining junior officers, it needs to start talking to junior officers and getting to the root.
A simple exit survey is necessary for a few reasons. First, it is extremely manageable. All it takes is for Army top brass to prioritize what they want to learn from retiring junior officers, write a survey that fits into those priorities, and make it regulation to conduct exit surveys of all officers leaving the Army with eight or fewer years of service. Second, the results from these exit surveys will be able to guide senior leadership to a solution. Instead of wasting time and resources on research that lacks direction, why not compile the surveys to help facilitate the research and give the research direction?
I make the leap that there is a brain drain in the Army and within the U.S. armed forces in general. The military is downsizing and the Army may have decided they only need a certain number of officers after 8 years of service. There are a variety of other reasons that could also explain the drop off in officer retention: DUIs, poor performance, or general misconduct. However, this strengthens the argument for exit surveys. Simply put, exit surveys would help identify the percentage of officers leaving relative to their strength of file and their future potential. If the majority of the officers that are leaving after their service obligation come from the bottom third in their year group, then there's no issue and no brain drain.
It would be reckless to ignore the exodus occurring in the junior officer corps and doing so will create unforeseen second and third order complications. The Army needs to address this issue now and should start by communicating with officers who are leaving and conducting exit surveys. I do not have a solution to a possible brain drain, but I realize that the first step to solve any problem is to correctly identify that one exists.