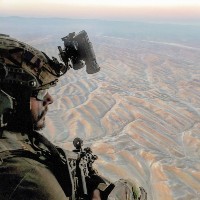 Senior Enlisted Advisor
Sergeant First Class Jarrid Johnson is the senior enlisted advisor for the Modern War Institute at West Point. He is an instructor for MS200 Fundamentals of Small Unit Operations. SFC Johnson is also the non-commissioned officer-in-charge and dive supervisor for the USMA Maritime Assessment Course for cadets attending Special Forces Combat Diver Qualification Course (CDQC).
He enlisted in the Army in 2013 after graduating from Springfield College with his bachelor of science in exercise science with a specialization in sports performance. He also lettered all four years on the men's varsity lacrosse team. SFC Johnson graduated from the Special Forces Qualification Course at Fort Bragg, NC in 2015. He served with 10th Special Forces Group (Airborne) at Ft. Carson, Colorado from 2015 to 2021. SFC Johnson was assigned to an Operational Detachment Alpha as a senior weapons sergeant and combat dive supervisor. He deployed with the detachment to Afghanistan in 2017-2018 and 2019 in support of Operation Freedom's Sentinel. He also deployed to Latvia in 2021 in support of Operation Atlantic Resolve.
SFC Johnson's military achievements include graduating from the Special Forces Senior Leader Course, the Special Forces Combat Diving Supervisor Course, CDQC, Special Forces Qualification Course (SFQC), SERE-C, and airborne course.
SFC Johnson's awards and decorations include the Bronze Star Medal, Army Commendation Medal with "C" Device, Army Commendation Medal, Army Achievement Medal (two awards), Afghanistan Campaign Medal with one campaign star, NCO Professional Development Ribbon with Numeral "3", Overseas Service Ribbon, NATO Non-Article V Medal, Special Forces tab, Combat Infantry Badge, Parachute badge, and Special Operations Diving Supervisor Badge.