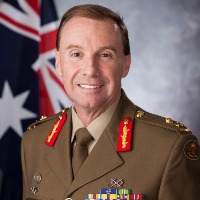 MWI Adjunct Scholar
Maj. Gen. Mick Ryan (Australian Army) graduated from the Royal Military College, Duntroon, in 1989. He has commanded Army units at the Troop, Squadron, Regiment, Task Force, and Brigade levels during his three-decade career.
From 2010 to 2011, Maj. Gen. Ryan worked in the Pakistan Afghanistan Coordination Cell on the US Joint Staff, as the Division Chief for Governance, Development, and Engagement, and subsequently in a new Strategy and Policy Division.  
As a general officer, he has served as the Director General Strategic Plans in Army Headquarters, Commander of the 1st Brigade in Darwin, and as Director General Training and Doctrine for the Australian Army.
Maj. Gen. Ryan has a bachelor's degree in Asian Studies from the University of New England and is a graduate of the Australian Defence Force School of Languages (Indonesian). He is a Distinguished Graduate of the United States Marine Corps Command and Staff College, and a graduate of the USMC School of Advanced Warfighting. In 2012, he graduated with distinction from the Johns Hopkins University School of Advanced International Studies with a Master of International Public Policy.
Maj. Gen. Ryan has a longstanding interest in military history and strategy, advanced technologies, organizational innovation, complex adaptive systems, and adaptation theory. He was inaugural President of the Defence Entrepreneurs Forum (Australia), and is proud Member of the Military Writers Guild. He is a keen writer on the interface of military strategy, the profession of arms, innovation, and advanced technologies (particularly AI and robotics), as well as how institutions can develop their intellectual edge.
He was appointed Commander of the Australian Defence College in January 2018.