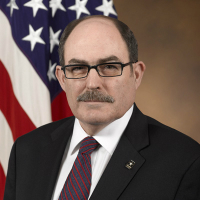 MWI Adjunct Scholar
Dr. David Johnson is a Principal Researcher at the RAND Corporation. His work focuses on military innovation, land warfare, joint operations, and strategy. Dr. Johnson is also an adjunct professor at Georgetown University where he teaches a course on strategy and military operations. From June 2012 until July 2014, he was on a two-year loan to the United States Army to establish and serve as the first director of the Chief of Staff of the Army's Strategic Studies Group.
Before joining RAND, he served as a vice president at Science Applications International Corporation (SAIC) following a twenty-four year career in the US Army, where he served in command and staff positions in the infantry, quartermaster corps, and field artillery branches in the continental United States, Korea, Germany, Hawaii, and Belgium. He retired as a colonel in 1997.
His military awards and decorations include the Legion of Merit, Parachutist's Badge, Ranger Tab, Expert Infantryman's Badge, Army Staff Identification Badge, the Ancient Order of Saint Barbara, and the Noble Patron of Armor.
Dr. Johnson's work has been featured on the professional reading lists of the US Army and US Air Force chiefs of staff, the US Army Training and Doctrine commander, the chief of staff Royal Air Force (United Kingdom), the chief of staff of the British Army, the Royal Australian Air Force chief of staff, and the US Army Maneuver Center of Excellence. He has served as a member of the Maneuver and the Fires Centers of Excellence Advisory Boards, and as a consultant to the US Defense Science Board and the US Army Science Board. In 2018 he was named to the National Board of the U.S. Field Artillery Association.
He has MA and PhD degrees in history from Duke University. He also has an MMAS from the US Command and General Staff College, an MS from the Industrial College of the Armed Forces, and a BA from Trinity University.
Dr. Johnson is the author or coauthor of numerous books, articles, and reports including:
Fast Tanks and Heavy Bombers: Innovation in the U.S. Army, 1917–1945
Learning Large Lessons: The Evolving Roles of Ground Power and Air Power in the Post–Cold War Era
Hard Fighting: Israel in Lebanon and Gaza
"The 2008 Battle of Sadr City: Reimagining Urban Combat"
"The Challenges of the 'Now' and Their Implications for the U.S. Army"
"Doing What You Know: The United States and 250 Years of Irregular War"
He is a member of the Council on Foreign Relations and the International Institute for Strategic Studies.